Finished – Raphael's Angels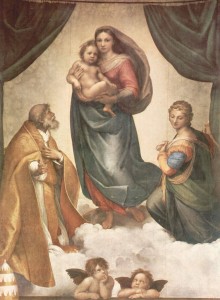 Raphael's Angels are a famous duo by Raffaello Santi (1483-1520) or simply Raphael. Raphael was an Italian Renaissance artist and considered one of the greatest artists of all time. He is part of the Trinity of Great Masters that includes Michelangelo and Leonardo Da Vinci.
Raphael's Angels are also known as 'The Sistine Cherubs' and 'Raphael's Two Putti'. Raphael's Angels are seen at the bottom of Raphael's great masterpiece 'The Sistine Madonna'. The Sistine Madonna depicts Mary with Christ child and two Saints, Sixtus and Barbara, in the clouds with the two Cherubs looking up at Madonna with Child.
This legendary Sistine Madonna (also called La Madonna di San Sisto) is large oil on canvas 265 cm × 196 cm (104 in × 77 in).  This painting was created between 1512 and 1513 on a flax covered wall in the Benedictine monastery church of San Sisto. Finished a few years before his death, ca. 1513–1514, as a commissioned altarpiece, it was the last of the painter's Madonnas and the last painting he completed with his own hands. It was later sold to The King of Poland by Monks in 1752 for 25,000 Scudi. Enough to build a whole town at that time! Later during World War II the Sistine Madonna was taken by Hitler and vaulted to protect it from Allied bombing. After the war the Sistine Madonna was taken to Russia where Stalin had it vaulted as well. In the late 1950's, the painting was returned to Germany where it resides to this day in Dresden, in the Old Master Gallery (Gemäldegalerie Alte Meister).
The painting has been highly praised by many notable critics, and Giorgio Vasari called it a "a truly rare and extraordinary work".
It's amazing to see that even Hitler and Stalin recognized it as a great work of art or at least of great value.
You might be asking at his point what putti means? The putto (pl. putti) is a figure of a human baby or toddler, almost always male, often naked and having wings, found especially in Italian Renaissance and Baroque art.
Those two little angels are often printed art motif, from tea cups to t-shirts.
I've decided to paint them as oil on canvas 100x50cm (39.4in x 19.7in)
This painting is available at EBay (https://www.ebay.com/itm/144192854839)
At this page you can see Art painting in progress…
1. Drawing on canvas (I have used red chalk)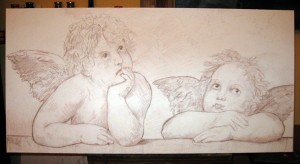 2. Imprimatura (first imprimatura, then I have "wiped off" highlights)
3. Umber Layer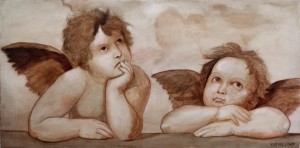 4.Added some more colors…Worked on clouds them, wings,…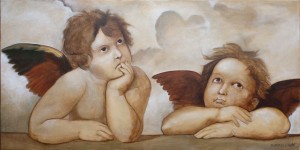 5. Several more hours of work before some final touches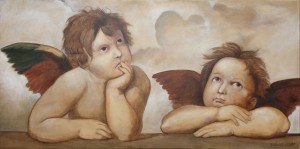 6. Finished painting with some more details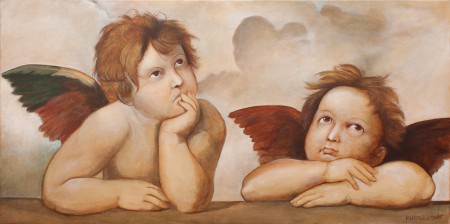 This painting is available at EBay (https://www.ebay.com/itm/144192854839)