Portrait of Serbian scientist Michael Idvorski Pupin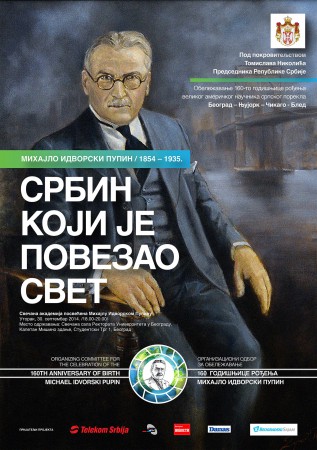 Portrait of our scientist Michael Idvorski Pupin, with a composition of a New York city in the background, I've managed to finish it in a record time, within a few days.
It was a commissioned painting for a well known Belgrade gallerist, and Aleksandar Vlajkovic, the deputy director of the Office for Cooperation with the Diaspora and Serbs in the region received it as a prize. My situation with this painting have reminded me of a text about Harriet Quimby, her historic flight and a Titanic. Mr. Vlajkovic received a prize on May 17, 2014, and the next day everyone was talking about the great floods.
Floods in Serbia was a reason why I haven't post it here, until now…
… when this painting is a background for the poster for Big event in Belgrade (Celebrating 160th anniversary of birth Michael Idvorski Pupin).
Mihajlo Idvorski Pupin, Ph.D., LL.D. (Serbian Cyrillic: Михајло Идворски Пупин; 9 October 1858 – 12 March 1935), also known as Michael I. Pupin, was a Serbian and American physicist and physical chemist. Pupin is best known for his numerous patents, including a means of greatly extending the range of long-distance telephone communication by placing loading coils (of wire) at predetermined intervals along the transmitting wire (known as "pupinization"). Pupin was a founding member of National Advisory Committee for Aeronautics (NACA) on March 3, 1915, which later became NASA.
(source: wikipedia.org/wiki/Mihajlo_Pupin)