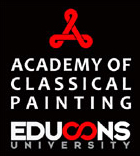 As I already mentioned at my bio and page about the artist, last year (2013 )I've won. Grant at the Academy of Classical Painting (AKS, Sremska Kamenica, Serbia)
Most of the time there at the moment, we are drawing charcoals on paper, mostly large scale formats (up to 2×1.5m).
What is the difference being self educated or at the academy?
When you are self-educated and have a problem with painting you will try to find answer to it with a search engine (mostly Google)… at the academy:
1. Professor will tell you that you have a problem with your work, in a moment when you are not aware of that problem at all
2. When you ask a question, you will get the answer not only for the question asked, but also for all others that haven't been uttered or asked!
Here are some photos of me and my colleagues…
… and some drawings>>
… at the academy semester exhibition…