QVO VADIS When You Can't have Pay Pal?
"Hello Visitor, here is message for you from the outer space…"
I'm not there, I'm still here in Serbia… a country at the Europe continent, but not in the EU,… still seems to be like a Neverland, a country that is somewhere here, no one knows where…
I was so excited when I've finally managed to setup my eBay account, and after I've realized that I can't have PayPal (Serbia is still not at the sign up list), I've opened eBay supported payment options.
"Skrill" (formerly MoneyBookers) is one of eBay's recommended options, and after whole process of account setup, security questions, measures,… I have my own.
This morning I woke up early and have the idea to start selling my artworks at eBay. For the past two years I've sold more than 200 original oil paintings at local auction website, 100% positive feedback, but prices here are low, or to be precise extremely low for original oil paintings.
I made a selection of artworks and some presents for my first eBay customers, but unfortunately, there is still that BUT… Life would be easier without that word… at the end of my auction setup I've got the message "For more security, You need verified PayPal account to setup your auction!!!"
If I would have Pay Pal, only if I would, I would choose it as my payment option!!!
So,… Qvo Vadis (What are You doing) when You can't have Pay Pal, still nothing at eBay,… waiting 🙁
BTW… this Painting "Qvo Vadis" should be my first eBay auction for 89.95US$ (with included FREE Express mail service)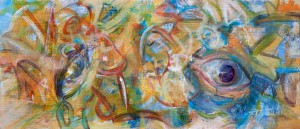 ————————————————————-
Post Update…
I have spent 23 minutes with eBay "customer service"…  and still nothing,… "It's a technical issue"!
I'm so excited about my new telephone bill that will arrive 😉
Why eBay?
More than 10,000 artworks are sold at the eBay weekly! Unfortunately for me for a month I don't have here that amount of visitors. At the internet everything is in visitors, followers, friends, likes…
At eBay you start with searching for a needle and end up with a laptop.
In a week I will implement 2Checkout payment processor here. I will be able to accept credit cards, and even Pay Pal.
And maybe to sell something