eBay limited – … or a "Satisfaction" with an eBay survey
After 23 minutes of long long distance call (Europe to USA) they sent me a survey…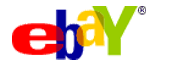 eBay: How likely is it that you will recommend eBay to a friend or colleague?
(I gave them 3… maybe I would sell something there some day)
eBay: Please tell us why you feel that way about your likelihood to recommend.
"I'm so sorry, at the moment I can not recommend eBay to any of my friends! It's too secure…
Secured with a PayPal, secured with a technical issues, or secured with or without mail address,chat option,…
If you ask me how I feel, I feel like I'm spending my time writing to some "secure computer" in India, Bangladesh or wherever your servers are…
I have versatile feelings and maybe I will painting something about that in near future. At the moment my "colorful versatile feelings" about ebay would be black without any trace of even a sparkle in it!
I have signed up at ebay with my home address (it's on the list),I can not have pay pal (my country is still not at the list, and if you ask some corrupted politicians here it will be never), your automated system invited me to sell, your automated system stopped me of selling anything wit Skrill (authorized payment gateway) and without paypal… Customer support told me art is a specific merchandise…
Yes they are I've painted them"
I would write even more, but that were each and every of my 1000 characters
Second page…
eBay: Please let us know why you think your question has not yet been resolved.
"Sorry… I don't think my question has not yet being resolved, I know it… there are still the message: "As a precaution, we have limited the activity on your eBay account until we receive additional verification information"
I knew it at the first place "It's a technical problem" I know that it is still technical problem and I know… it would be a technical problem without Pay Pal…
I have a website at my name, my address,… from 2004… It's on the web for 8 years with same data, ownership,… I know your "conversation" employees don't know how to check ip records, "who is" data,…
I've spent 23 minutes in international telephone conversation, I'm so thrilled and excited about my new phone bill…
P.S. I know I don't need to contact eBay more than once to resolve my issue… it is and it would be "a technical issue"
Why I took this survey?

I knew I have something to say, I knew I will copy/paste it,…
and I knew someone would read… thank You