Welcome to the Complete new-fine art Website
As you can already guess, I'm fine artist, painter Darko Topalski.
2002. Fine Artist Website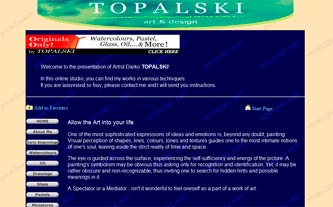 Nine years ago, I decided to make my first website and to expose my artworks to a wider audience, to the World. Everyone is online; why wouldn't I, as an artist, tried to sell my artworks online…
That was just the beginning. I made a small website, under free domain and free micro hosting at my internet provider.
Gradually, I realized, it hadn't been enough. Several months later I've started collecting materials, texts and photos of my artworks, as well as scripts for a completely new website.
2004. Fine Artist Website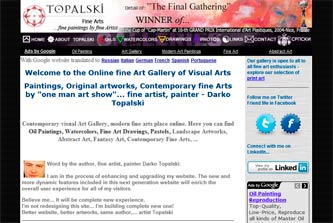 Seven years ago,  I bought this domain topalski.com and uploaded a website with more than 300 artworks (including oil paintings, watercolor paintings, drawings, and fine art photography), and with  more than 800 links to external fine art resources.
It had more than 370 html pages! With this website, I've managed to rank high at the search engines and it became an excellent reference. It was redesigned on several occasions. Having had the idea to make something new, something more!
2011 this… a completely new website (I've finally managed to do that)!
Why? The previous one was done in html… a bunch of manual coding, and at least 20 minutes to add just a single new artwork! On the Internet, one year is a lot and seven years are far too many.
It's a piece of cake to add painting here , to change layout is a cherry on the top of it!
Paintings, descriptions, every word is in the base, and the layout is built around it. Not to forget, I've designed it with the latest trends and add-ons.
I hope you will enjoy your stay here; new artworks are on the way, and will be presented as soon as their photos are taken.
Darko Topalski, fine artist, painter has concentrated his artistic achievement working with different mediums being in a constant quest for further development of his painting and drawing skills as well as his online presence!