Fisherman – Symbolic Landscape Oil Painting
Oil Painting on Canvas
by artist Darko Topalski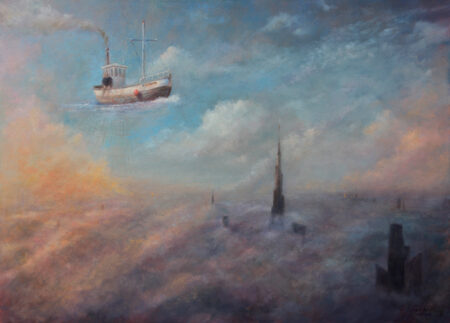 Name: Fisherman
Medium: Oil on Canvas
Size: ±20x28in (50X70cm)
Year: 2019
Signed: Yes
Available:Yes
Interesting and symbolic painting I've received recently in my dreams. Fisherman on a fishing boat with a net, fishing from the clouds. The name of boat is intentionally V'GER (after scene with Capt. Kirk and VoyaGER). City with clouds below is partially some of skyscrapers from Dubai.
Long time ago I had a dreams with paintings that I never saw in this dimension of existence… We are awakened but actually everything is like a kind of dream…
Anyway I've started recently to receive paintings, and this is one of them.