Rembrandt after Rembrandt – Figurative Portrait Oil painting
Oil Painting on Canvas
by artist Darko Topalski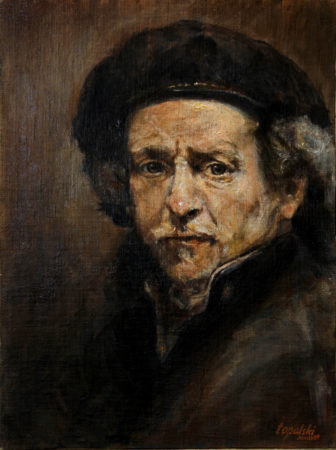 Name: Rembrandt after Rembrandt
Medium: Oil on Plywood Canvas board
Size: ±12x16in (30X40cm)
Year: 2018
Signed: Yes
Available: NO!
One of my colleagues at the art Academy said that export procedure here, to get necessary papers and must have permissions are like we all have one small Rembrandt. I've decided to paint over the painting of our model Joe, one small, mine Rembrandt, and from Joe's portrait I've decided to keep his eye… Sorry Rembrandt's eye.
After I've painted first Rembrandt painting, I've decided to add some more layers to achieve more depth.
(Acquired by art collector from the Mexico)