Finished – L'Amour et Psyché, enfants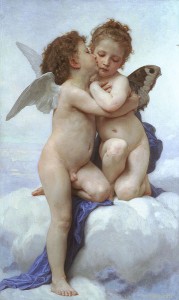 L'Amour et Psyché, enfants (translated: Cupid and Psyche as Children, 1890, Salon of 1890, No. 330) is one of William-Adolphe Bouguereau's most famous paintings. It is incorrectly known as Le Premier Baiser (The First Kiss, 1873).
The painting is an oil on canvas, 119.5 x 71 cm (47 x 27 7/8 inches), and it is housed in a private collection. The subject of the painting stems from the story of Cupid and Psyche told by Lucius Apuleius in The Golden Ass (2nd century AD).
One of the first virtual galleries on the Internet was the Web Museum. It placed L'Amour et Psyche, enfants (1890) mistakenly as The First Kiss (1873) and this error has been repeated ever since… [source Wikipedia]
I've decided to paint a detail of them on 100x70cm (39.4×27.6in)canvas
1. Drawing on Canvas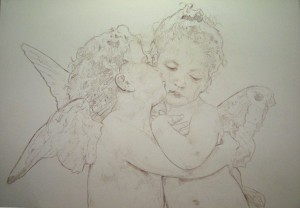 2. Me and them 😀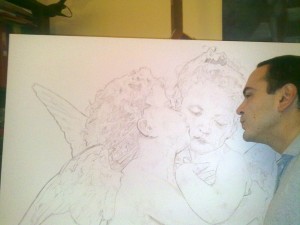 3. First oil layer (burnt umber, burnt sienna and some color)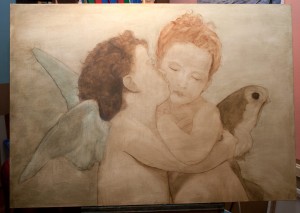 4. I have read some article that says W.A. Bouguereau used on some of his paintings Blue layer over Sienna layer… Excellent idea to play… so I've decided to cover whole area of canvas with Burnt Sienna, wipe off highlighted areas and here is the result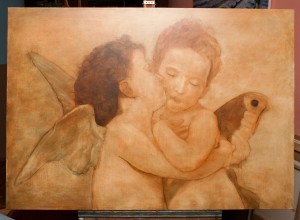 5. Added some white and colors to the sky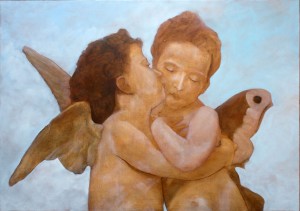 6.  Finished