Finished – Dragoljub "Draža" Mihailovic – Version 2
A Year ago I've finished oil painting on HDF canvas panel of Dragoljub "Draža" Mihailovic (or Draza Mihajlovic see it here…)
Dragoljub "Draža" Mihailovic (also known as "Uncle Draža"; 27 April 1893 – 17 July 1946) was a Yugoslav Serbian general during World War II. A staunch royalist, he retreated to the mountains near Belgrade when the Germans overran Yugoslavia in April 1941 and there he organized bands of guerrillas known as the Chetnik Detachments of the Yugoslav Army. The organisation is commonly known as the Chetniks, although the name of the organisation was later changed to the Yugoslav Army in the Homeland (JVUO).
Founded as a royalist/nationalist Serbian resistance movement, it was the first Yugoslav resistance movement to be formed, followed shortly by Josip Broz Tito's Partisans. Initially, the two groups operated in parallel, but by late 1941 began fighting each other in the attempt to gain control of the area following the end of the war. Many Chetnik groups collaborated or established modus vivendi with Axis powers. After the war, Mihailovi? was tried and convicted of high treason and war crimes by the authorities of the People's Federal Republic of Yugoslavia, and executed by firing squad.
[source wikipedia]
From all available Mihailovic photographs, and not many, two are the most famous. One is inspiration for previous portrait in sepia, and this one.
Why I've decided to paint them?
If you think you can paint, best way to show what you can do is to paint someone who's is portrait famous. First portrait painting I've sold. Interesting is that this my portrait was published in local daily newspapers "Kurir"
It is also nice playground (if you like to experiment, test, play while you are painting).
Here is painting in progress of version 2…
Size: 40x30cm (16x12in)
Surface: HDF Canvas Board
1. After drawing I've painted a basics of portrait with burnt umber, and after that instead of standard imprimatura I've painted whole surface of canvas with Green Oxide of Chromium…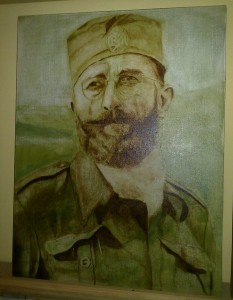 2. After this drying of previous layer I've painted burnt umber and added white to highlighted areas, and some light blue to the skies…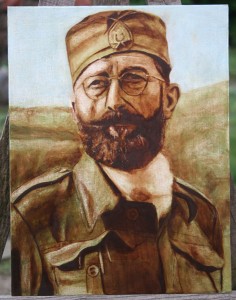 3. Instead of adding some color layers, or to paint classic "dead layer"  I've decided to paint it in Verdacio (more neutral version of it)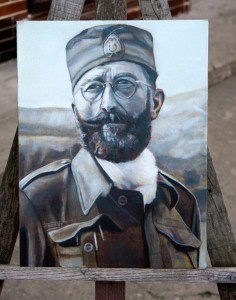 4.Almost  FINAL
This old photo look like a hand colored black/white photo, so i decided to do something similar with a thin glazes of semi-transparent color, with some extra color in highlights and shadows.
… and the result is as it follows…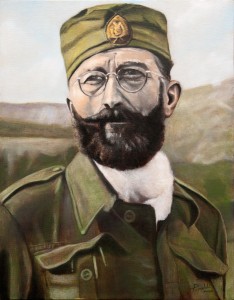 5. I've  decided to add just a bit more color and some touches… and now it's finished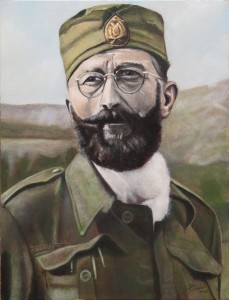 6. Detail