Oil Painting on Canvas
by fine artist Darko Topalski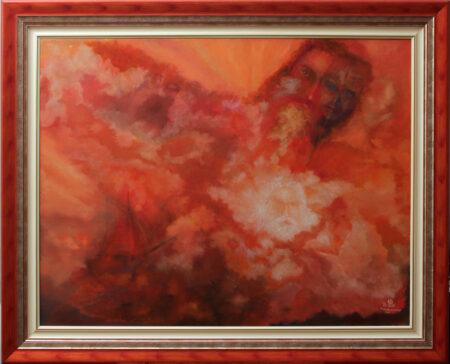 Name: The Final Gathering
Medium: Oil
Support: Canvas
Size: 27.6″X35.4″in (70X90cm)
With Frame: 88x108cm
Condition: Excellent
Year: 2003
Signed: Yes
Available: Yes
Strange are the Ways of God, beyond any comprehension, all of them leading to The Final Gathering. Have you strayed, and become lured by glimmering particles, thus losing yourself, or you've recognized your path, led only by a tiny twinkling light from the Rose of your Soul?
Or the thorns made you look the other way?
The Final Act has always been and will be the same;
what will come after depends on what has been before
… and the Secret is there to be revealed to the Committed ones.
This painting is more philosophical than religious we as souls coming from one place and we are returning there… We are here in this spark of time to learn and experience to love and be loved.
I was always fascinated with figures and people in the clouds,… this painting is a part of that, the more you look the more you see with different lighting, angles,…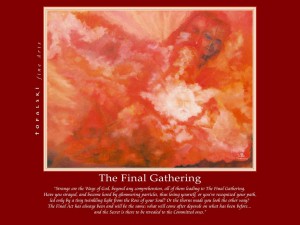 WINNER of Prize of Roquebrune Cap-Martin

(At L'AIGLE DE NICE 2004 (16eme annee)
Grand Prix International d'Arts Plastiques from november 2 to16th 2004. in Nice-France…)